I remember years ago a little old Italian man was in the store trying to sell us Brachetto, he told Randy and I that Moscato was what you drank with your wife and Brachetto was what you drank with your lover, by the end of the year all the wineries in Italy were sold out of Brachetto but had lots of Moscato left over. A charming story made even more charming by the thick accent but I had to wonder, "What if your lover is your spouse?" as quickly as I thought it the answer came to me, "Rose Champagne".

I cannot get over how much Rose Champagne has changed in the past 10 years, once considered a "fun little wine" with only a few houses like Billecart-Salmon and Louis Roederer, (Cristal) actually making a serious Rose rather than just adding a bit of Pinot Noir to their basic non-vintage brut or worse adding a much higher dosage, the resulting wine being simple, pink and a bit sweet, (a memory for some that is hard to shake). Well, the times they are a changing people, there are some unbelievably sexy, very grown up Rose's coming out of Champagne these days. I noticed it a few years ago when the once quintessential Rose from Billecart-Salmon tasted less exciting, it was still beautiful, (and still is) but during my tastings it went unnoticed. I worried that the quality of the wine had gone by the way of Veuve Clicquot, resting on reputation rather than upholding the quality of a wine that was loved by all. After spending an evening with a bottle of Billecart-Salmon Rose I can tell you, it is still lovely, the wine hadn't changed….it was the other Roses that were changing, they have gotten so much better!




The "Classic" dry Rose Champagne's are getting a run for their money, Rose is no longer an afterthought for many small Champagne houses, it has become a wine that they take seriously. Offering a "fun little pink wine" is no longer good enough, these estates are using their best Pinot Noir or sourcing the best from villages like Bouzy and Ambonnay, known for their powerful, rich Pinot Noir, they are now turning out dry Roses with power, finesse, and unbelievable structure.

Weather made by saignee, getting color from skin contact or the much more commonly used method of adding still red wine, (Pinot Noir) for color, these wines get better and better each year. While still being "fun" they are a different kind of fun, a sexier, more sensual, mood shifting, grown up kind of fun and with Valentine's Day right around the corner I can think of no better wine to share with your lover and spouse!




NV Agrapart 1er Cru Les Demoiselles Brut Rose $49.99

This Rose by one of our favorite little producers has also seen a change from the tart little wine we first fell in love with. Now the wine is deeper, full of bright red cherry, citrus and cream and on the palate it seems to have gained a few pounds. Sexy and round in the mouth with zingy little bubbles and a very balanced finish.



NV Rene Geoffroy Brut Rose 1er Cru $63.99

This wine went from yummy to stunning with one batch! Dark pink color with tons of black cherry, minerals and baked red apple skin. Very vibrant but with a mouth filling weightiness that leaves no doubt how a serious a wine this is.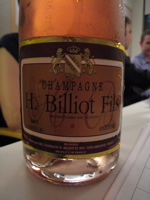 NV Henri Billiot Brut Rose Grand Cru $61.99

This was one of the first Roses that made us notice just how much Rose was changing in Champagne. Every time we pour this wine people lose their minds. Bursting with red fruit, baked apple and rich with buttered toast this wine seems to grow in the glass, each sip sexier and more powerful than the last. The finish is almost ridiculously long, it just lingers there on your palate in the most haunting way…daring you not to take just one more sip, one bottle is never enough.




NV Camille Saves Brut Rose Grand Cru $72.99

I get nervous when I write this gorgeous Rose up because it is made in such small quantities that I fear we won't be able to get more. Explosive mouth filling fruit, almost like wild strawberries in thick rich cream that you can smell the second you pop the cork and on the palate the wine is long, full and rich with nervy freshness on the finish that keeps everything perfectly balanced.




NV Vilmart Brut Rose Cuvee Rubis 1er Cru $68.99

This wine drinks like a fine red Burgundy with sexy little bubbles. Dark black cherry, bits of smoke, and just a touch of meatiness upfront with a rich vanilla flavor mid palate and a long very serious finish, you could easily drink this wine with hearty meals like steak, braised meats and duck.