"36?! We have 36 people signed up for tonight?" I squawked, "but…but we can only really seat like 32" I whined. Worse over is there were over 19 names, (with guests, so more like 26) of people on the waiting list, many of which were my tried and true Champagne customers that waited just a tad too long to sign up for a class that featured Champagne…you know, the day before Valentine's. My standard jangle of nerves was now a full on earthquake. I scanned the list to find that there were about 10 people that I knew, "Cool, seat them upfront" and we began robbing the office chairs so we could seat everyone.
Once the tables were set, the cheese trays prepared and the potato chips were poured into baskets, (I always serve potato chips at my Champagne events, great for the wines and seems to take some of the high brow out of drinking what are essentially, just fantastic wines but have been sadly relegated to the "special occasion" arena) and the list was typed up I was beginning to feel better. Well, I'm sure the glass of Champagne I pounded didn't hurt but more than anything I was just so damned excited about the wines we were pouring, a few of which I hadn't tasted in months.
As the crowd shuffled in I had this feeling it was not going to be a blockbuster event, lots of perfume coated couples that seemed to be celebrating a night on the town, not so much interested in learning or really evaluating the wines. Bummed me out a bit when I thought of all those people on the list that would have given anything to sample through that amazing lineup. I held my breath, sucked it up and tried to ignore the folks that insisted on sharing with me that they really couldn't taste the difference after having three glasses, (read tastes) of wine….grumble.
As it turned out I was right, we didn't sell a bunch of Champagne that night, but the people that were into it, they were INTO it, so that part was wonderful. I love it when people give themselves over to a great glass of bubbles, let it slip in under their skin, let themselves melt into the glass, let it seduce them…hmmm, wonder if there isn't a bit of the voyeur in me?! Whatever, it's just one more way for Champagne to please me, so right on.
The wine of the night for me stood out so far from the rest, don't get me wrong, I loved all but one of them but this wine….damn.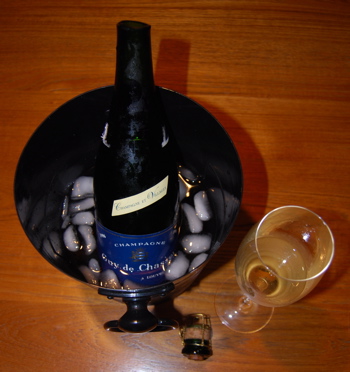 1999 Guy de Chassey Grand Cru Brut, ($79.99) Rose petals, lemon rind and minerals in a glass, this is as seductive and sensual a Champagne as I have had in a very long time. It spun my head from first sniff and had me reeling all night long….still has my heart pumping a bit. Not an easy wine to get, it makes you work for all the sensual pleasure, you have to keep swirling, smelling, coaxing it…..sigh, it needs foreplay people but it is worth the time. On the palate you find the same intriguing flavors…and they stain, hooray. So damn sexy it is almost shameful, thankful I gave up on feeling ashamed years ago….too much pleasure to be had. We are down to just about 4 bottles and I don't think I will be able to keep my hands off of them.
NV Paul Bara Grand Cru Brut Reserve, ($49.99) A newbie favorite, all those people that don't drink Champagne very often almost fell off their borrowed chairs when they tasted this. Big, plushy, super forward and very easy to drink. Not very complex but sometimes you don't want to have to work so hard. Pleasant, full and infinitely gulpable.
NV Rene Geoffroy Premier Cru Brut Rose, ($63.99) Another "wicked easy to drink wine". Big, ripe, plump black cherries, a round curvy mouth feel and a long creamy, delicious finish. I ended up grabbing a bottle of this the following night to enjoy with our Valentine's feast!
NV H. Billiot Grand Cru Brut Rose, ($61.99) Damn, I always love this wine, it walks that line between power and balance so well. Super rich, nice weight and delicate bubbles….shiver. This is a big wine but in no way brutish, big in that sexy, "I dare you to stop tasting and thinking about me" way. Year after year a staff and customer favorite and once you taste it you will see why.
NV Camille Saves Grand Cru Brut Rose, ($72.99) Almost didn't pour this wine because I can only get so much and I hate running out, but I couldn't help myself…..I wanted some! A bubbly that drinks more like Pinot Noir than Champagne. Ripe red fruit, heavy in the mouth with racy little bubbles that you almost don't even notice. A very serious Rose that is brilliant with hearty fare like, duck, braised or cured meats and absolutely sings with anything crunchy or fried.
Another amazing night of stunningly delicious and seductive Champagne, I implore you…seek these wines out, you will never think of Champagne the same way again.