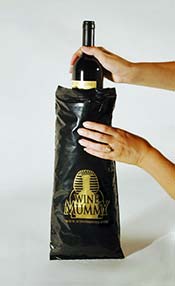 Sunday morning found me both excited and bummed, excited because I would be hopping a flight to Louisville for a much needed visit with my wonderful son Jeremy, but sad that he would be working inventory so our dinner plans were so not going to happen. I was also bummed that I would be missing game 7 of the Lakers Houston series, with any luck, (which for me when travelling…is risky at best) I would be able to catch the last bit of the 4th quarter in the Louisville airport, not horrible considering that we had no dinner plans anyway. I packed the wine I was bringing with me in the Wine Mummy bags I got at The Wine Country, a tad freaked out and praying that they actually worked as I had never used them before….as I eluded to above, my track record with travel….shity, something always happens, I'm just lucky like that.

"Your bag is 3 pounds overweight. Is there anything you can remove and take on board with you?" awesome. I knew that taking out one of the bottles would probably do it, but seeing as you cannot bring liquids on board a flight…I had to just ignore the glare from the hubby and cough up the extra money for my chunky bag.

"It's going to be tight time wise, to catch our connection" the hubby announced. I knew the second the words fell out of his mouth that we were screwed, only had to wait to see how badly. Running from like gate 30 to gate 1A only to be told our flight had switched gates to 27….yeah, missed it and were rebooked for another flight, 5 hours later, perfect. There was an upside to being stuck in the Atlanta airport, they have bars, always a great way to cope but even better, television! I got to watch the Lakers crush Houston and sip on Gin & Tonics…hooray.

With the game over we tried to get on standby for one of the 2 flights that were leaving before ours, so funny story….they showed me boarded on that original flight…of course. "See, um…but I didn't make that flight" I informed them. "We can't rebook you when you are showing as making that flight" we were told, just another tick on that travel scorecard of crap that happens to Sam. 40 minutes and many calls later they were able to rebook me, they take that security stuff real serious I can assure you. Made it to Louisville, late but safely and I opened my bag to find 4 bottles intact, hooray Wine Mummy. Popped a bottle of 2008 Francois Chidaine Touraine, finally relaxed and even got a text message, "I'm off now, you guys want me to swing by the hotel?" it was my sweet son, "Hell yeah!!" I replied and I ended the day, with a Laker win, whole bottles of wine and being able to wrap my arms around the greatest person I know….

It was a bumpy road but I am here now and hearing that, "Hi Da Momma" and being face to face with the only person that calls me that….worth every bit of it.