I remember years ago while being tasted on some Alsatian wines the little, new-to-the-business rep asking me, "Which wines are your favorite?" a question that any wine lover and buyer will tell you, is impossible to answer. Favorite? There are far too many to choose just one not to mention the whole, "favorite for what?" thing. I remember glancing at a map of France we have hanging in the tasting room and answering, "I think I am a fan of the Northern part" and went back to taking notes. I thought about that conversation last year while tasting in the Rhone…turns out I am in fact a fan of the North.

We had spent most of our time in the South tasting lots of young Chateauneuf-du-Pape, Cotes du Rhone and Gigondas but it was a 9:00am appointment with Thierry Allemand in Cornas that I found my happy place. We had just left Clape and while I loved those wines I found them a bit too tightly wound…might have been that I was tasting them at 8:30 in the morning on a freezing cold January day but still. Maybe it was the walk to Allemand's winery, the sun was coming out, we had the first palate crushing wines under our belts or that Thierry Allemand saved us by shooing off a mouthy little teenager that was giving us crap, whatever it was those wines rocked me and now I find that when I feel the need to get my Rhone on as it were…I look North.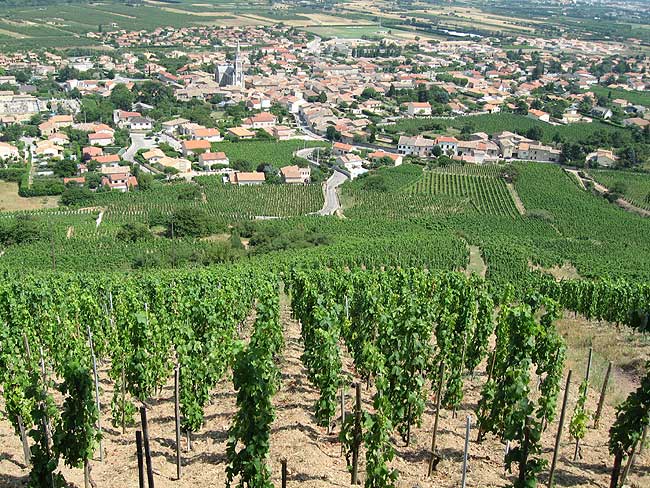 Guess it's not surprising if you consider the wines that move me, Champagne, Burgundy, Loire, all from cooler regions and are not about primary fruit, they are lean, pretty tangy and often exhibit some savory notes, just what I tend to favor and how my palate works…I'm a cheese plate over dessert person. While I still adore the wines of the Southern Rhone, (although they are starting to get too jammy and rich which pisses me off) there is just something about those Syrahs from the North that drive me wild. The herby, meaty, smoky thing, the wild flowers and dark berry thing, when I have all that in my glass it makes me think that if purple had a smell….this would be it.

As I was futzing around in my Rhone department preparing for our quarterly inventory I found myself making a mental list of my top Syrahs, guess I would be willing to say they are my favorites in the store and the coolest part, they aint that spendy…well, aside from one, let's start with the big boy.




2004 Allemand Cornas Chaillot, ($79.99) Not the most expensive Northern Rhone we have but it's up there…worth every penny I assure you. I find Allemand's wines damn near perfect, there is a purity to them, a precision….I hate to use the word, "polished" as it conjures up images of manipulation, but there is a perfectly polished feeling about Allemand's wines to me. Gorgeous aromatics, plenty of dried flowers, plump sweet berries and cracked pepper, each thing perfectly integrated and harmonizing together. On the palate there is a sultry, roasted, savory meaty flavor with tons of pepper and a finish of bright ripe berries. Massive flavor but a delicate weight and texture…unbearably refined.




2005 Cave de Chante-Perdrix Saint-Joseph, ($29.99) This has got to be one of the best deals we have in the store. Black fruit, smoked meat, sweet berries….full and sexy as hell on the palate, pushing that, "almost too full" envelope but the serious acidity pulls everything back into balance.




2008 Faury Vin de Pays de Collines Rhodaniennes Syrah, ($18.99) This young little wine is a pure pleasure to drink, Syrah in its prettiest, purest form. Dark fruit, minerals and bacon with a light mouth feel and uber refreshing finish….so Syrah that you can drink glass after glass of.




2008 Cave de Chante-Perdrix Vin de Pays de Collines Rhodaniennes Syrah, ($13.99) I am so diggin the wines from this area, such wicked values considering their close proximity to Saint-Joseph, not as weighty or serious but displaying many of the same flavors, just on a simpler, smaller scale. Sweet ripe fruit, massive amount of pepper and tons of violets all with a gentle mouth feel and a clean bright finish….rockin' bottle of wine for this price.

There I finally wrote about wine for a change!