It should be no surprise to my regular readers that I am a bit of a Francophile, as a matter of fact I am sure there are plenty of people that believe that I think French wines are superior to all others, and in a way that's true….for me, for my palate, for the way I drink, French wines are better but as a whole, well I am not willing nor would I be so narrow as to suggest that they are the best, like ever. I'm fully aware that that savory, mineral, earthy, tangy thing that makes my eyes roll back in my head makes other people pucker, scrunch their nose and utter those obnoxious phrases like, "that's thin" or "Not much going on there". This kind of comment is why I staunchly refuse to take part in those, "French Pinot Noir versus Domestic Pinot Noir" events, in that kind of setting, a couple little sips then move on….well, my beloved French wines just get lost. Guess I shouldn't be shocked, those wines were never meant to be show stoppers, never meant to dazzle with one sip. They are wines that were meant to be enjoyed over the course of a meal, throughout the evening or better yet, 10 years down the road. People like me, people that are into drier, leaner wines are drawn to the rustic, less primary wines from France. Are they better wines? No, but they are better suited to a palate like mine.

Now when faced with one of those face pucker people I try and explain the wines, tell them how their subtle nature is better for food, how they were not meant to be rich and fruity and urge them to spend more than a minute with them….notice the way the wine leaves the palate refreshed, seeking another sip. This tactic usually works, not always, but most of the time and while I am not trying to or succeeding in making them, "converts" I think it helps broaden their love and appreciation of wine. They can love their rich domestic wines and the more reserved French wines, I love this part of my job….so yeah, what about me?




When I find myself tasting through a bunch of New World wines I find that I am scrunching my nose, making the pucker face and tossing about my own obnoxious comments like, "Fuck that's sweet" or, "Wow, that's too aggressive" and most of the time relegating those wines to the, "Not for me pile". Now I can still sell them, I know tons of people that love that forward style of wine…kinda easy to sell really, but for me to take home, drink or even put down for a year or two, yeah that never ever happens.

So I have a very dear friend and loyal reader that has taken on the task of introducing me to some California wines that he thinks might suit my palate…I was beyond skeptical at first, thought it was unbelievably sweet that he was sending me wines, made me feel extremely special but there was something in the pit of my tummy that made me wonder why he was bothering? I have been tasting California wines for 13 years, never been my thing really. Oh I think I had a mild flirtation with Zinfandel back before they were Port, back when DeLoach O.F.S Zinfandels were allocated…and good, but once the super sweet, super extracted, boozy style became fashionable I got out of the Zinfandel drinking business. As someone that has a zero tolerance for most anything sweet, (not kidding, don't like chocolate, candy, ice cream…none of it, I even put salt on fruit to make it palatable) New World wines, (yes, generalizing here) just hit that sweet sensor on my palate and therefore not something that I have ever been drawn to.

So the first wine he sent, a Rhys Pinot Noir held its own side by side with one of my favorite Red Burgundies, (okay in fairness to the Burgundy it was from a difficult vintage) in fact I was actually compelled to slam the cork in the bottle of Rhys and take the leftovers to work the next day to share with the staff….stunning Pinot Noir, simply delicious but, okay I admit it, I thought it was a fluke. Sure there are some great wines being produced in California and I was bound to taste a couple that suited me, lucky…he got lucky, (okay really funny when I tell you he was a sommelier for like….ever, it was once his job to do this and here I was like, "Yeah okay, we'll see" such a know-it-all).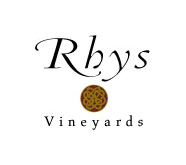 The second wine was a bit tougher, he had even mentioned that he was not holding out hope that I would like it….Zinfandel, my most hated wine ever. Now I took the bottle to a dinner with a bunch of wine geeks, we popped the cork, poured the wine in my glass and…Zinfandel, the best Zinfandel I've had in like a jillion years but….sigh, just aint my thing. I am leaving out what wine it was because frankly, I don't want you all making fun of me for not loving it or jumping to its defense. It was a great wine, balanced, lovely texture, extremely well made, but just was not for me.

Last night I popped another of my gift wines. I was celebrating the eve of my last day off before Christmas Day, I had glass of Champagne while making dinner and thought some Pinot Noir would be great with the thick, perfectly marbled steaks we were having. Popped my head in my little wine fridge and pulled out the bottle to warm up a little before dinner….okay lying, I popped the cork right away but the wine was WAY too cold, so I then left it to come up a bit more to room temperature.

I took a sip right before putting dinner on the table and have to admit, little sweet at first…not a sweet wine mind you, just a little sweet for me, so I nibbled the food, went back to the wine and with each sip I was finding something beyond the primary, something more sultry, something more like the Pinot Noir that makes my little hairs stand up…something sensual. The wine was a 2002 Dehlinger Octagon Russian River Pinot Noir and that bottle of wine seduced the hell out of me last night. I took my time; spent the evening letting it reveal itself to me, expose its layers, show me how freaking complex it was and that silky, graceful texture…damn. Took everything I had to leave some wine in the bottle but I was dying to see how an older domestic Pinot Noir would hold up overnight….fuck, fuck, what a revelation.




I was letting this sultry, way beyond fruit, wine swish across my palate, gently laying its soft body in my mouth and these exact words came to my mind, "You have to take your time with these wines. You can't just taste them and expect them to wow you. They need to be tasted over the course of a meal, given time to show you all that they can do…" my argument for French wines was calling me and saying, "Hello Pot, this is The Kettle and you're black".