It was 5:00 am and I found myself once again sitting before the ever comforting glow on my humming little laptop. My little couch perch, my very own space in my humble and chilly home. I confess to having a terrible habit of falling asleep on the couch, not sure what my deal is but ever since I was a kid the idea of going to bed has always felt like some kind of surrender. I fought to stay awake, would even give myself a little pinch on the arm to keep myself up….not much has changed really. I don't pinch myself anymore but I will pour myself one more glass of wine and try and nurse it through my nodding off to sleep. More often than not I wake on the couch, glass of wine still on the table at like three in the morning and hobble off to bed. It's my silly routine and my hubby has grown accustomed being single until he feels my icy feet slip next to his at whatever in the morning.

Last night was a tad different; I did not fall asleep on the couch. I was however still awake at 12:30, wrestling with a fierce case of heartburn. It was wretched, the kind that starts like a bubble in your chest, grows and ends with that gurgling burn at the top of your throat. Now if any of you ever suffer with this you will know that laying down only makes this whole burning, gurgling business worse….and of course we were out of anything that may have helped soothe me, awesome. I teetered off to bed hoping that sleep would be a strong enough medicine, yeah not so much. Gurgle, burn, sit up, curse and repeat…..it was fantastic I assure you.

Around three I curled up on my right side, my eyes burning nearly as bad as my chest, tired…so painfully tired and finally drifted off to sleep. Forty minutes later I was awoken by a very loud, "Mom!!!!" my own voice screaming, shaking me from my much needed slumber. I stayed in bed trying to shake it all but I lost and found my way to my little space. Now I've never been one of those dream analyzers, I don't try and figure out what they mean, what my mind is trying to tell me or feel that there are lessons to be learned by studying what my crazy ass head does while I sleep. Just never been one of those people and truthfully I rarely remember my dreams most of the time but this one, this one I have had so many freaking times that if it weren't so terrifying it would be like a visit from an old friend.





Sometimes the setting or situation changes, me walking in to find or waking on the couch to find that the front door….the one I had locked before falling asleep, is open. I walk to the door to shut it and, SLAM….a foot blocks me from closing the door and then the shoving starts. Me against the door and "Him" pushing from the other side, always the same struggle and the most terrifying part, I open my mouth to scream and nothing ever comes out. I've been having this same dream since I was like seven or eight, it follows me each year and each dream I am my current age but it always ends the same way, me trying to scream for help and not having a voice. That was until last night, last night in my dream I was able to scream for my mother and woke to find I was actually screaming. So funny thing, turns out my hubby is going to be worthless in this situation, there I was screaming for my mother at like 3:40 in the morning and the hubby didn't even flinch….very reassuring that. I stumbled out to my little perch and gently humming laptop heart burning and pounding thinking about dreams for the first time.

"So what do you want to do when you grow up Sam?" a question that followed this scholastically challenged, street running, authority fingering, pregnant at seventeen girl around like this stupid bubble of are-you-kidding-me. What did I want to do? What the hell could I do, survive, try not to be a massive fuck up and try and raise a person that was better than I was. Lofty right? I was never a dreamer, not sure if it just wasn't in me or if the reality of my situations didn't give me the time to even think about it. I knew I didn't want to be a stereotype; hood rat turned breeder. I knew I didn't want to live off the system or take a dime from anyone to raise my son. I let my mother help me, she let me live with her but I started working as soon as my tiny son was healthy enough to be with a sitter. I would not take a dime from the man that helped me create my lovely son, a decision that would have my ear bent over and over again…to take one penny would give him access, he didn't deserve access and I would have sooner worked three jobs, give up sleep for good and sell my blood than let that kind of evil near MY son. Well, so I guess I did have one dream…be a good mother, give my son all that I had, show him what was possible if he was willing to work for it. He did…a junior at U of L, still cannot believe my son is a junior in college.





Sitting here this morning I let myself think or dream a little bit. Dream of what is next for Jeremy, dream of my Amy finding new friends and exploring her passion in culinary school out there in Dallas. Dream about my adorable neighbors, a one and four year old….their journey just beginning. Dream about The Wine Country, how I so long for that store to get the business and recognition I so feel it deserves. Dream of a friend up North being healthy and watching his children grow. Dream of a beloved man that is starting a new chapter in his life, hoping he knows how honored I am to be a part of it. As I sat here running through it all I heard those words again, "What do you want to do when you grow up?"…..

Guess the only thing I have ever really wanted for myself is summed up by the nightmare that has followed me all these years…I want a voice. I want to be heard. This shy woman that would rather swallow her own tongue than speak in public, this self deprecating woman that finds it difficult to walk past a mirror, this woman that is proud of her actions but has not as of yet learned how to be proud of herself…I want to be heard. I want to have my fingers stroke my keys, share my words, thoughts and opinions and have someone give a shit. So at least on a small scale, my dreams have come true.




So please indulge me when I extend a full hearted, overwhelmingly touched thank you to Ron Washam, Alfonso Cevola, Charlie Olken and Nancy Deprez. All four of these people nominated me for a Best Writing on a Wine Blog award, fuck seriously? These are some of the finest writers I have ever had the pleasure to read and they heard something in me worth tossing my name in the ring…unreal, a dream come true for me. I also loved the email the boys sent shortly after the nomination, the "don't be shocked or upset if you don't win" email….matter of fact I think those emails touched me even more than the nominations. The owning of their praise and concern, the knowing that they heard me….dreams coming true.

Okay so I would also like to take a moment to confess that I bit Ron's head off when he nominated me, just felt like when my Mom would tell me I was pretty….Ron, thank you My Love. I am honored by your adoration and praise. I love that you hear me and your warm hug is in every post I write. Your acceptance and guidance, your support and admiration make me proud, proud of myself My Dear Sweet Man. Thank you. Thank you for paving the way and opening doors that let me feel and really hear that people like Eric, Alice, Charlie, Alfonso, John, Michael, Marcia, Benito, Jeremy, Jimmie, Eric, Jess, Vicki, Heather, Thomas, Anon 1 (although he remains silent I know when he's here) Sara, Kevin and all the others have heard me and for showing me that I do have a voice.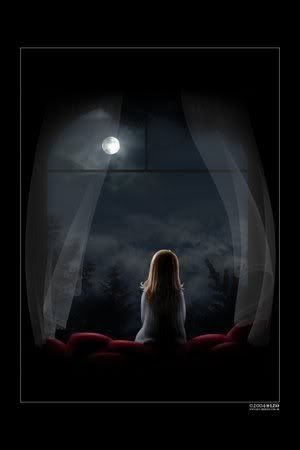 It came to me in a dream this morning, I opened my mouth and heard my voice….thank you all.