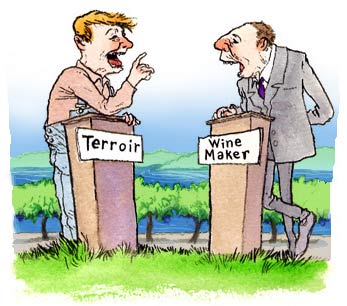 Is that better you terroir disbelievers? Don't want to get anyone's knickers in a wad by using the "T" word. For those less geeky and not so much inclined to troll wine blogs, terroir is French word used, (a lot) to describe what the place the grapes are grown imparts on the flavor of the finished wine, and there are lots and lots of people, both in and outside of the wine business that don't think it's a real thing. Whatever. Might not be everywhere and who knows for sure if it is the soil, the strains of yeast or specific clones that create that common thread between wines grown in a certain places. I'm no scientist nor am I a winemaker, but I can tell you, from years of experience, there are in fact wines grown in places that taste like no other wines, made from the same variety, often from the same damn clones, from anywhere else. Period.
I've way too often had some sales rep or winemaker in my grill telling me his Central Coast, or Napa Chardonnay is Burgundian, and I can tell you that nothing will get my eyes rolling back in that, "Um shut up" way like that comment. I did have a guy recently tell me his Chardonnay was "Old world" in style and I have to say I found that down-right refreshing. Old world is a style, Burgundy is a place and it bugs the living crap out of me when place names are misused or misrepresented. Not to mention I think wineries should be proud of where they are, embrace it and make whatever style wine they wish. I won't judge by any other standard….unless you toss about shit like "Our Chardonnay is very Meursault-like" well now you've given me something of an expectation, a place whose wines I know the flavors of and guess what? It's not. Doesn't make the wine bad, not in the least but it's not Burgundian, so stop saying that. Do I believe there are wines of the same quality as many Burgundies being grown elsewhere, hell yes I do….but they still don't taste Burgundian. It's not just Burgundy either, although we do tend to hear it most often with Chardonnay and Pinot Noir, that comparison thing, Rhone gets its fair share of it as does Alsace and Bordeaux at times and I wish it would just stop, not going to I know but I think that comparison thingie does more to fuel the flames of terroir debate than anything else.
So I think it is pretty obvious where I stand on the argument. Can't tell you why the wines from a specific place taste a certain way, but in my opinion they do. Call it what you like, make up the reason why but until someone can pour me a Cabernet Franc that tastes like Bourgueil, a Sauvignon Blanc that tastes like Sancerre or a Chardonnay that tastes like Chablis, well I am gonna stay firmly planted in the "Believer" camp. That being said, a couple of years ago I started using "wines of place" rather than the ubiquitous, and oft misused, terroir. Just paints a clearer picture for my customers and for some reason kind of takes that whole, "Vs." thing out of the equation a little. When comparisons are made we as a people are inclined to pick a "winner" and with matters of wine, (or any other subjective, preference driven subject) the only winner is the one that tastes best, to you. Might not be the same winner as the person pouring picked or the person next to you at the table right? Which brings us to my next topic……..the wine scoring system. Kidding. Not a chance in hell I'm poking that buzzing bees nest.
A couple of weeks ago I was tasted on a flashy new Chablis, leesy, rich, toasty oak and when I buried my nose in the glass I thought two things; has no aroma of place and this style wine is made, far better, in other parts of the world. Had no use whatsoever for it and I took a pass…funny thing though, he didn't mention when pouring that it was a, "Sonoma Coastian style". I judged that wine on both sets of criteria, place and after that, style and it failed on both. Crappy Chablis and substandard Chardonnay, no thanks. When you look at it that way it might behoove suppliers, winery reps and salespeople to skip that whole "It's an X style" wine because now not only have you given me the, "Um, shut up" face, you've thrown another layer of expectation in the mix. Just sayin'….
Last night I was dropped off a couple bottles of wine, samples of a new vintage from one of my favorite producers and the second my nose was in the glass I could tell where that wine was from, without question that wine was Chablis, not Chardonnay, Chablis. A wine of place. That stony, un-cooked bread dough, salty, almost fleshy smell and taste can only come from one place. Call it what you want, matters not to me but no one is going to convince me that there is nothing at all to what a specific place can add to a wine. Doesn't take much to cover that up should you be so inclined, as was the case with that Chardonnay producing Chablis estate I was tasted on a couple of weeks ago. Little longer hang time, some brand new or heavily toasted oak and viola, accent covered. Not so much opposed to that but keep in mind Mr. Sonoma Coastian "Chablis" producer, you are now competing on a world stage with a new world style and you've got some seriously stiff competition ahead of you. They are making far more concentrated, elegant, refined Chardonnays, like in the Sonoma Coast, you erase that place flavor from your wine…you can't compete, theirs are better examples, of Chardonnay.
I happen to dig the fact that I can taste where a wine is from, often times more than what it's made from. I think it's freaking cool as hell, romantic even. If you can't, don't want to or fall in the terroir is bullshit camp that's fine too but how about not pointing your finger and saying the rest of us are being hoodwinked, or worse, lying. Oh and if you really think there is nothing to it, quit using words like Burgundian, it's a freaking PLACE, ya jackhole. Either you believe that imparts something or you don't.